About Talking Statues Leeds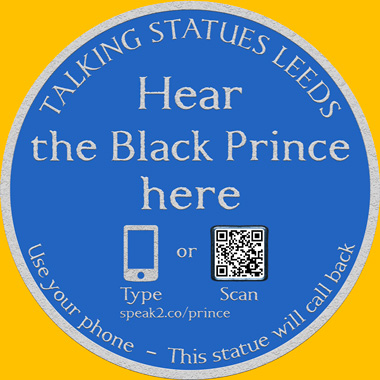 Sing London have animated 10 of Leeds' most popular statues as part of the Yorkshire Festival 2016!
Pass a Talking Statue, swipe your phone on a nearby QR-coded plaque or type the short url, and presto - get a call back from the Black Prince (voiced by Vic Reeves) , from a Drury Dame (voiced by Game of Thrones' Gemma Whelan), or from Brian Blessed as a large stone lion! Each has a story to tell. Together they tell Leeds' story.
The statue monologues have been created in partnership with West Yorkshire Playhouse and include contributions from some of Yorkshire's most celebrated writers, actors and comedians. Some approaches are dramatic, others comic and others flights of pure fantasy. All aim to persuade the public to look at the city's statues with new eyes.
To hear the statues speak, just bring your phone and pay them a visit!
FIND OUT WHO'S TALKING WHERE